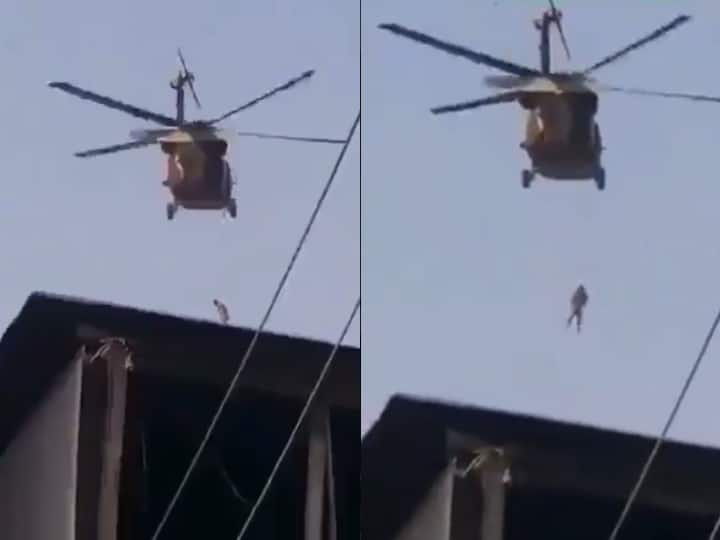 US troops from Afghanistan left Kabul a day before the scheduled date. Meanwhile, Taliban fighters were seen firing at some places in celebration, and at some places their brutality was seen. A new video has surfaced, in which an American black helicopter is seen flying in the skies of Kandahar, Afghanistan, and in it a man is tied with a rope.
Several journalists have shared this video on Twitter, claiming that the Taliban first killed the man mercilessly and then tied him to a US military helicopter and drove him to Kandahar province.
In this video it is seen that a man is tied in a rope to a helicopter, while the Taliban is flying him in the skies of Kandahar province. This video has been shot from below and it is not clearly visible whether the person who has been tied in that helicopter is alive or not. But, reports have claimed that the Taliban have tied the body of a person who has already been murdered.
If this is what it looks like… the Taliban hanging somebody from an American Blackhawk… I could vomit. Joe Biden is responsible.

— Liz Wheeler (@Liz_Wheeler) August 30, 2021
However, Talib Times, which is being claimed to be linked to the Taliban, said – Our Air Force, the Islamic Emirates Air Force helicopter is flying over the city of Kandahar and is patrolling the city. The Daily Mail said that the US has supplied it with at least 7 Black Hawk helicopters last month. After the withdrawal of American soldiers, they have left all these defense items there.
Soon after his hasty exit on Tuesday, the US military said it had disabled 73 aircraft, 27 Humvees, weapon systems and other high-tech defense equipment before boarding the final flight.
Within hours of American troops leaving Kabul airport, the Taliban entered its compound and inspected Chinook helicopters and other weapons that American soldiers had left behind. After that Taliban fighters took control of Kabul airport. In the video that has surfaced, he is seen running racing cars and other vehicles on the runway of Kabul airport.
read this also:
Afghanistan Crisis: India's high-level group eyes on the situation in Afghanistan, senior officials including Ajit Doval-Jaishankar included
Afghanistan Crisis: After the withdrawal of US forces from Afghanistan, the Taliban said – the world has learned a lesson and…
.



Read More In World

Source link