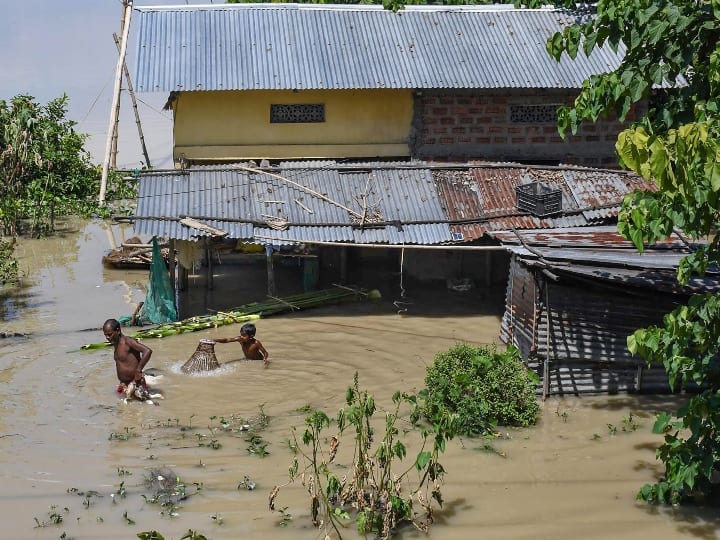 Assam Flood: The flood situation in Assam worsened on Wednesday, in which two more people died while around 6.48 lakh people in 17 districts were affected by the floods. This information was given in an official bulletin. According to the daily flood report of the Assam State Disaster Management Authority (ASDMA), one person each died due to floods in Barpeta and Majuli districts, taking the total death toll to five.
Nalbari most affected district
The ASDMA said that more than 6,47,600 people have been affected by the floods in 17 districts. Nalbari is the most affected district where more than 1.11 lakh people are affected by floods, followed by Darang with over 1.09 lakh people while in Lakhimpur district 1.04 lakh people have been affected.
39,449.58 hectare crop area damaged across Assam
The ASDMA said 1,295 villages were submerged and 39,449.58 hectares of crop area across Assam was damaged. 85 relief camps and distribution centers are being run by the administration in 10 districts of the state, where 3,584 people, including 648 children, have taken shelter.
1617 people were evacuated from flood affected parts
According to the bulletin, 1,617 people have been rescued from various flood-affected parts of the state by various agencies engaged in relief and rescue operations. The 17 affected districts of the state include Barpeta, Vishwanath, Chirang, Darang, Dhemaji, Dibrugarh, Golaghat, Jorhat, Kamrup, Lakhimpur, Majuli, Morigaon, Nagaon, Nalbari, Sivasagar, Sonitpur and Tinsukia.
Read also:
West Bengal By-Polls: Ready to hold by-elections before Durga Puja in October, West Bengal informed EC
Allahabad HC on Cow: Allahabad High Court's comment- Cow is an important part of Indian culture, Central government should give the status of national animal
.



Read More In India

Source link