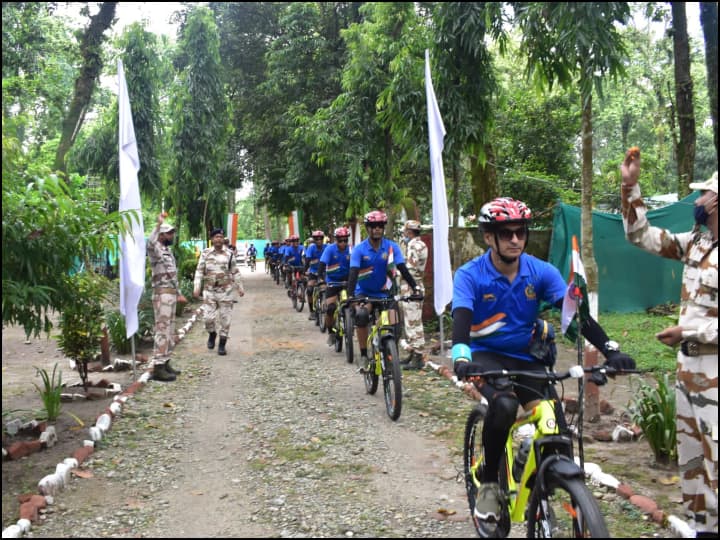 Azadi Ka Amrit Mahotsav: The Indo-Tibetan Border Police Force (ITBP) organized a cycle rally from Itanagar in West Bengal to Rajghat in Delhi on the 'Azadi Ka Amrit Mahotsav'. This cycle rally started from East Seema 'Iqbali', it will end on 2nd October at Rajghat.
ITBP Deputy Commandant Abhinav said, "This relay cycle rally started from Itanagar. It is going from Itanagar to Rajghat Delhi. It is being operated by Indo-Tibetan Border Police Force. We are celebrating 75th Independence Day, which is celebrated as Independence Day. There are 24 members in the team with me. The team will also organize many programs on its tour like tree plantation, beginning of cleanliness, we will also distribute clothes. We will also organize patriotic films. I will lead this team It is being run in the name of ITBP Cycle Relay Rally.
The Northeast Cycle Rally completed its ambience yesterday and today the phase of Sector Gangtok will start from Siliguri here and culminate in Patna on 8th September. A member of the team said, "We have selected cyclists here who have completed their training. They have been provided security, given training in cycling and also given an objective to connect with common people. Wherever he stays, he talks to them, tells about the ITBP and also talks about the availability of the group."
During this rally, ITBP personnel will move ahead by donating their old clothes to NGOs. Not only this, but by setting up medical camps, we will also provide treatment to the poor people. Through this rally, ITBP will try to tell the people all over India how difficult it was to get freedom and how to maintain independence. The work of making people aware on the roads will also be done during this rally.
One member said that "we chose the cycle because it moves slowly, there is a stop every day. You can stop anywhere and talk to people. Even slow moving people connect. Vehicles." move fast there can be no conversation. no face can be seen. but in this case we can stop anywhere, talk with the group, treat them, give them a small gift People become very happy, we also become very happy that we are able to be among common people and connect with them.
The Indo-Tibetan Border Police Force (ITBP) was formed on 24 October 1962 to provide security to the country's northern borders after the Indo-China conflict. The ITBP started as a small contingent of only four platoons, which has now grown into 45 service platoons and four specialized platoons. The main functions of ITBP are to protect and guard the Indo-Tibetan border, provide a sense of security to the people of the border, protect important persons and discharge internal security duties and disaster management.
For the first time in the history of the Supreme Court, 9 judges took oath together, see the list
Taliban's New Administration: After the departure of America, who got what responsibility in the new administration of Taliban?
.



Read More In India

Source link