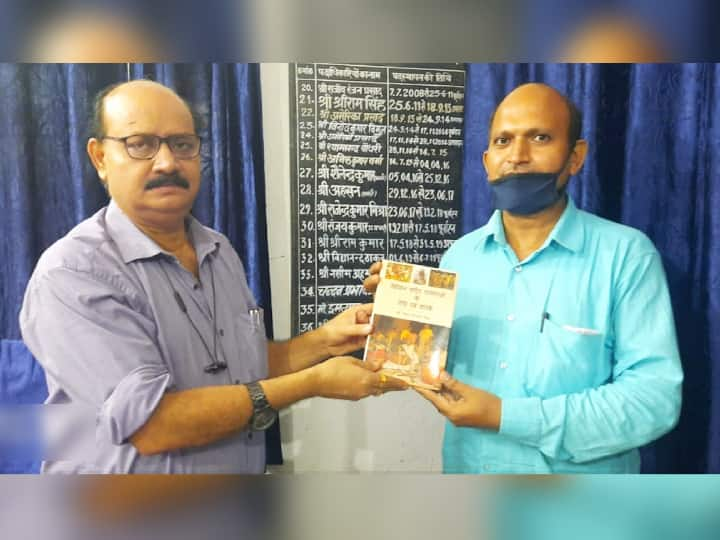 Madhubani: A music teacher employed in entire Bihar is going to get state award for the first time. On September 5, i.e. Teacher's Day, Dr. Shiv Narayan Mishra of Madhubani will be given the State Teacher Award. District Education Officer, Principal of Watson High School Ajit Kumar Sahu, teachers and artists have congratulated Shiv Narayan Mishra in advance for this.
Dr. Shiv Narayan Mishra is working as Higher Secondary Music Teacher since 2016 in Suraj Narayan Singh Devnarayan Good Mehta Watson Plus Two School Madhubani. He was born on January 2, 1975 in a musical family, Madhubani Sangeet Gharana. Her father Pandit Ramakant Mishra is a retired teacher from Sivaganga Girls High School Madhubani. Mother Late Radha Devi had good knowledge of music. After receiving his initial education in music from Madhubani, Dr. Shiv Narayan Mishra has received high level education of musical tabla from his maternal uncle Pandit Ranganath Mishra, artist of Banaras Gharana.
published several articles at state and national level
Dr. Shiv Narayan has completed his PhD in music under the direction of Dr. Lavanya Kirti Singh Kavya from Lalit Narayan Mithila University, Darbhanga. He has written the book (following various musical traditions and instrumentalists). Along with this, many articles have been published in various state and national level journals including Madhubani Souvenir, Madhubani Darpan, Research Patrika, Bhairavi, National Seminar, Naad Rang, Sangeet Chintan, etc. He has received many awards by presenting research papers in National Seminar, National Music Conference, National Seminar etc. While working in Dr. Shiv Narayan Mishra Watson High School, Watson has assisted in many programs at school, divisional and state level, by directing songs, music, drama programs to the students of Watson High School and presenting the children.
received many awards so far
Instrumental Competition, Inter College Youth Festival, District Level Tabla Competition, National Integration and Inter State Youth Camp, Independence Day Celebrations, Republic Day Celebrations, Golden Jubilee Celebrations, Talent Search Competition, Vidyapati Memorial Ceremony, Shukra Gulzar since student life Many awards, medals and certificates have been given for participation in Sunny Bahar program, Sonepur Mela, All India Music Conference etc. He has special interest in playing Chess, Photography, Stage-conducting, Writing. He has also received awards and certificates in all these fields.
Thank you for being selected for the award
Read Also-
Bihar Crime: Meat seller lynched in Bhojpur, fear of incident in land dispute
Bihar Politics: Jagdanand Singh compares RSS to Taliban, says – these people beat up others
.



Read More In State

Source link