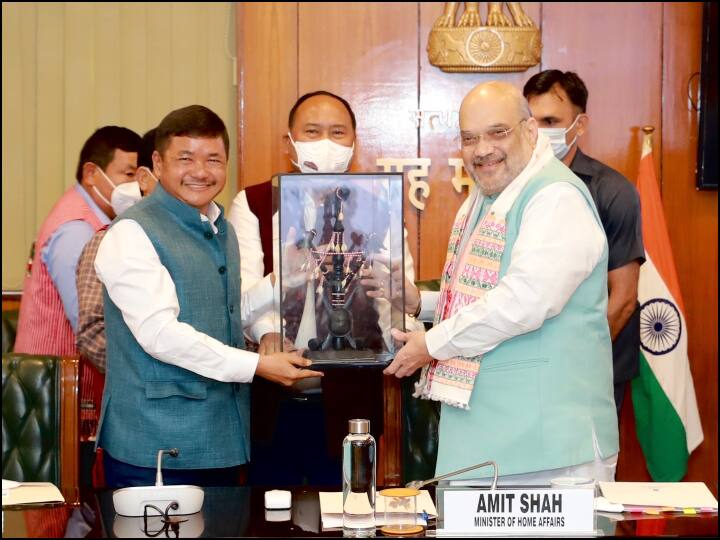 Karbi Peace Accord: A tripartite agreement was signed between the Assam government, the central government and five insurgent groups in the state on Saturday to end years of violence in the Karbi Anglong region.
Union Home Minister Amit Shah, who was present on the occasion, said that the agreement will lead to lasting peace and all-round development in Karbi Anglong. The insurgent groups that have signed the peace agreement include People's Democratic Council of Karbi Longri (PDCK), Karbi Longri North Cachar Hills Liberation Front (KLNLF), Karbi People's Liberation Tigers (KPLT), Kuki Liberation Front (KLF) and United People's Liberation Army. UPLA).
As a result of this agreement, around 1000 militants belonging to these groups have surrendered with their weapons and joined the mainstream of the society. The Union Home Minister said that the Karbi Agreement will prove to be another milestone in Prime Minister Narendra Modi's vision of a "militancy-free prosperous Northeast".
Shah said a special development package of Rs 1,000 crore will be given over five years by the central government and the Assam government to take up special development projects in the Karbi region. He said, "I want to assure everyone that we will implement this agreement in a time-bound manner."
Citing the example of similar peace agreements signed earlier with other Northeast extremist groups NDFB, NLFT and Bru groups, the Union Home Minister said, "We fulfill all the conditions of the agreements in our own tenure and to fulfill them." Government has a track record.
Shah said that since Modi became the Prime Minister, the Northeast has not only been the prime minister's area of ​​focus, but the all-round development of the Northeast and peace and prosperity there has been the top priority of the government.
The agreement assumes significance as over the years in Karbi Anglong militant groups have been carrying out incidents of violence, killings and kidnappings demanding a separate territory.
Union Minister and former Assam Chief Minister Sarbananda Sonowal, who was present on the occasion, appreciated the efforts of Prime Minister and Home Minister for bringing peace in Assam and Northeast. Assam Chief Minister Himanta Biswa Sarma said that it is a historic day as the militants of these five groups will now join the mainstream and work for the development of Karbi Anglong.
West Bengal-Odisha Bypolls: Assembly by-elections to be held in Bengal and Odisha on September 30, results will come on October 3
SC collegium recommends 68 names for appointment of judges in High Court, including 10 women
.



Read More In India

Source link