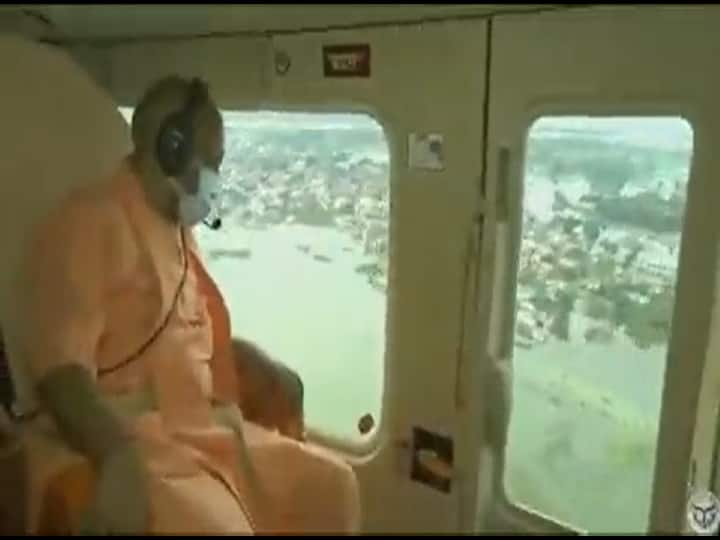 Gorakhpur Flood News: Chief Minister Yogi Adityanath, who arrived on a two-day visit to Gorakhpur, conducted an aerial survey of the flood affected areas. After this he also distributed relief material among the flood victims. Chief Minister Yogi Adityanath first reached Jhangha in Chauri Chaura tehsil. While addressing the people here, he said that no flood affected person should feel helpless. Every effort is being made for this.
distribution of relief material
Chief Minister Yogi Adityanath reached Aditya Public School in Jhangha area of ​​Chauri Chaura around 3:30. Here he started a relief camp by distributing relief material to 10 flood victims. He handed over relief kits to Ramnath, Rampyare, Usha Devi, Chhotelal, Ganesh and Jungle Gauri No 1 of Jhangha, Bhola, Jiyasi, Kusum, Koila and Shakuntala. During this, while addressing the people, he said that it is also the intention of the government that no person should feel helpless at the time of disaster. Every effort is being made for this. All the public representatives are working together for all possible help to support the public. He said that yesterday also he has been told that relief material has been distributed to about one and a half to two thousand people. In which 1 kg of rice, 10 kg of flour, 10 kg of potato, 2 kg of pulses, refined oil, salt, spices, match, rain, lai-bhuja, gram are also being provided. Efforts have also been made that spraying and sanitation are being ensured to prevent the spread of infection during the rainy season.
Ration and relief to the victim's family
Chief Minister Yogi Adityanath said that a special campaign is being launched from Sunday to control the disease in time. He told that a senior officer is being posted in every district. He will review it with the public representatives. The government has already provided adequate amount of resources and funds to the administration. It is expected that every victim family should get ration and relief, food grains should be available. Food packets should be available to those who are living outside their homes. He told that if the house of any victim is damaged, then 95 thousand rupees should be provided to him for getting the house damaged. If there is a kutcha house, then there is a separate amount for it. If a house has come in the stream of the river, then arrangements have been made to provide a house immediately under the Mukhya Mantri Awas Yojana.
15 districts are in the grip of floods
Earlier, Chief Minister Yogi Adityanath said in his address that 15 districts of eastern UP are in the grip of floods due to heavy rains in Nepal along with eastern UP. In Gorakhpur district, 304 villages and a population of 2.25 lakh have come under the grip of floods. Damage has been reduced due to the early work done for flood protection, repair of dams. Despite this, ration and relief materials are being promptly distributed and help is being provided by the administration to the people.
CM Yogi is visiting the flood affected districts
Chief Minister Yogi Adityanath has been on a tour of the flood-affected districts since Friday. CM is also distributing relief material to the flood victims. CM Yogi Adityanath, who arrived on a two-day visit to Gorakhpur, also distributed relief material in Unwal, Sahjanwan of Khajni tehsil and Laldiggi of Sadar after Jhangha in Chauri Chaura tehsil of Gorakhpur. Here he assured the people that all possible help would be provided to the people affected by the floods.
read this also:
.



Read More In State

Source link