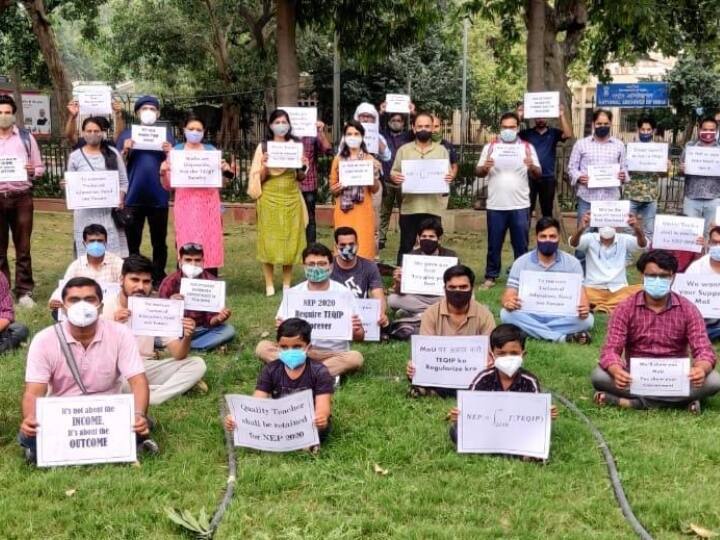 New Delhi: On one hand, preparations are underway to organize Teachers' Day across the country, while young teachers of government engineering colleges of a dozen backward states have been staging a sit-in on the streets of Delhi for the past several days. These are the teachers who were selected in 2017 to improve the quality of government engineering colleges in the backward states of the country.
Under the TEQIP campaign (Technical Education Quality Improvement Program) with great enthusiasm, in 2017 about 1500 assistant professors were selected for three years. It was mandatory for these people to have a degree out of MTech or PhD from a reputed institute like IIT, NIT. They were selected from the merit list made on the basis of GATE score and interview and they were trained at places like IITs, IIMs. But after about four years, such qualified teachers have to stage a dharna to save their jobs.
Anshul Awasthi, an MTech from NIT Surat, teaches at Ujjain Engineering College. Awasthi said, "We have been working day and night for the last three and a half years. There has been a lot of improvement where we are teaching. But we ourselves are stuck between the Center and the state. We are fulfilling the dream of PM Modi. It is a request to the Prime Minister to take cognizance of our problem.
In fact, in the agreement reached between the central and state governments regarding this campaign, it was said that good teachers would be regularised. After passing three years, last year due to Corona, the tenure of these people was extended for six months. In the month of March, these teachers staged a sit-in in Delhi, after which they got extension again for six months. With the end of September, their service will also end.
One such teacher, Anurag Tripathi, says that this project was started with the help of the World Bank. In the Memorandum of Understanding between the Center and the state, it was decided that the state government would regularize the good faculty. Various committees from NITI Aayog said that we are like backbone. In March, the Union Minister of State for Education assured us that we would not have to come again. But nothing happened.
Ankita Chandrakar and Shailendra Gupta, who are teaching at Jhalawar Engineering College in Rajasthan, also argue that we were told to be regularised. We have given our valuable time. Some are getting old too. They claim that earlier the condition of government engineering colleges was bad, which has now improved a bit. These teachers believe that due to the completion of the project, their rights will not only be killed, as well as the colleges which were in good condition will come back in their old condition.
At present there are 1234 such assistant professors. All of them are teaching in government and government aided engineering colleges of Jammu and Kashmir, Uttar Pradesh, Uttarakhand, Madhya Pradesh, Rajasthan, Bihar, Chhattisgarh, Jharkhand, Odisha, Tripura, Assam, Andaman and Nicobar. For the last three and a half years, apart from classroom teaching, he has been playing a key role in research, lab development, gate training to NBA accreditation. Their salaries were also increased every year on the basis of their performance, but now after the project is over, they face a future crisis.
This project was getting help from the World Bank. Guidance by the Central Government and the College by the State Government. According to the protesting teachers, the Center and the states are abdicating their responsibility. This project and these teachers have greatly benefited the backward engineering colleges, this fact is also accepted by many government reports and people associated with the Ministry of Education of the Central Government. But why such a campaign should be abolished is not answered. We tried to get in touch with the Union Education Minister regarding this matter but did not get any response so far.
Delhi Rape Case: In the case of rape of a 6-year-old girl, Delhi Police filed a chargesheet in just 21 days.
Traffic Rules Violation: Policemen who do not follow traffic rules should come, else they will have to face departmental action
.



Read More In India

Source link