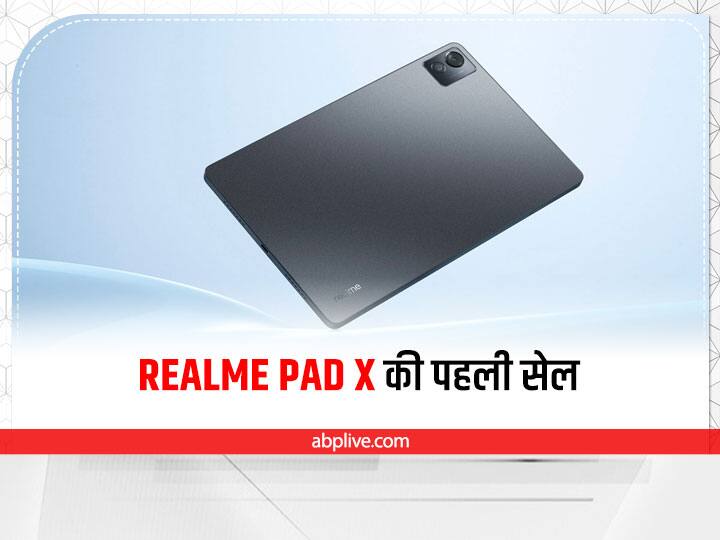 Realme Pad X First Sale: There has been a lot of revolution in the Indian tablet market during the Corona period. Till two years ago, where Samsung and Apple were in the tablet market, today many companies like Realme, Redmi, Lava have launched their tablets in the market, although most of the tablets come with 4G support only. Realme has recently launched its first tablet with 5G support, the Realme Pad X in the market. An 11-inch display is being available in this tab of Reality. Smart Keyboard and Reality Pencil have also been launched for Realme Pad X, although they will have to be purchased separately. Realme Pad X has its first sale today (1st August 2022). Let us know in detail about the price and features of Realme Pad X.
Specifications of Realme Pad X
Realme UI 3.0 has been supported with Android 12 in Realme Pad X.

The Realme Pad X has an 11-inch WUXGA+ display and has a resolution of 1200×2000 pixels.

Snapdragon 695 processor is being given with Realme Pad X tablet.

Realme Pad X has up to 6 GB of RAM and up to 128 GB of storage. This tab also has up to 5 GB of virtual RAM, so that the storage of the tab can be used as RAM if needed.

Coming to the camera, the Realme Pad X has a 13-megapixel rear camera and an 8-megapixel wide-angle front camera.

The special thing is that the front camera of Realme Pad X automatically manages the zoom and frame according to the need during video calling.

Four speakers have been given in Realme Pad X with Dolby Atmos.

The 8340mAh battery is provided in the Realme Pad X, with which there is support for 33W fast charging.

Low latency Realme Pencil is also being supported with Realme Pad X. The backup of the Pencil is claimed to be 10.6 hours. Make it clear here that the Pencil and Smart Keyboard will have to be purchased separately.
Realme Pad X Price
The price of Realme Pad X has been listed at Rs 19,999. This price is of 64 GB storage and Wi-Fi variants with 4 GB RAM. At the same time, the price of the model with 5G support is Rs 25,999. The 6 GB RAM and 128 GB storage variant of the Tab is priced at Rs 27,999. Realme Pad X Tab can be purchased in Glacier Blue and Glowing Gray colors.
Schedule a meeting in Google Meet like this, learn step by step


Read More In Gadgets

Source link