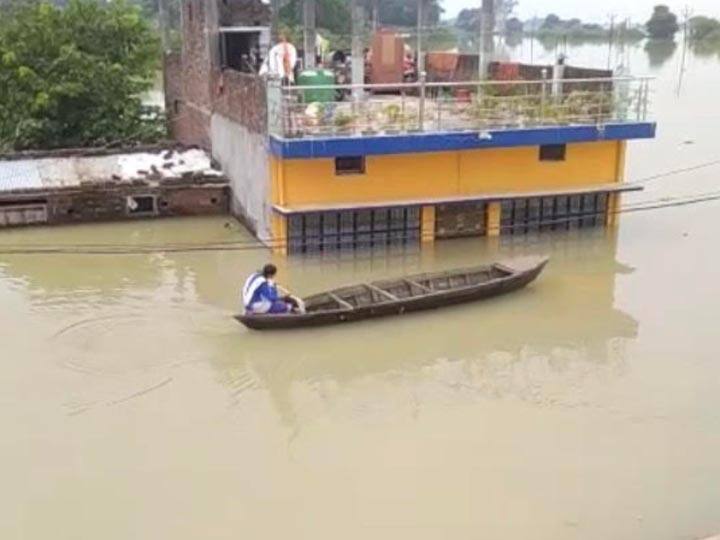 Flood in Gorakhpur: Flood has created havoc in Gorakhpur district of UP. Flood water has entered people's homes. The houses are filled with water till the waist. Where there were roads, now ponds are visible. At the same time, people in the villages are looking for a safe place with their cattle. There is leakage in the dam at many places. In the midst of the struggle of life, people are migrating leaving their villages and homes to feed themselves and their families. Meanwhile, a picture of a girl giving the courage to live life is going viral.
Actually, the girl is going to school by boat alone after getting dressed in school dress. This girl, going to school alone in the midst of floods in the booming Rapti river, is an example of courage. Seeing the enthusiasm of the girl going by boat with the bag, people in the troubles of floods will forget their troubles for a while. When the order was given to open the schools from September 1, people did not understand how they would send children to school in the midst of these troubles and troubles, but the spirit of the girl going to school alone by boat in the Rapti river overflowing with floods in South Baharampur won the hearts of the people.
broken ring dam
The people trapped in Bharwalia and Basavanpur villages were rescued by the administration and NDRF teams due to the rupture of the Bharvalia-Basawanpur ring dam of Kaudiram block in the early hours of Thursday. At the same time, 30 thousand population of more than a dozen villages were affected due to the breakdown of Rajdhani-Silha main embankment and Amghat embankment in Jogia of Chaurichaura at around 3 pm on Friday. Flood waters have wreaked havoc in the western end of the city till Baharampur. Most of the people living in Baharampur are migrating by boat due to the severe floods.
MLA himself is distributing ration
Meanwhile, Gorakhpur Rural MLA Vipin Singh told that the fourth pump has also been started to extract water. He told that he himself is distributing ration. Apart from this, arrangements for boats have also been made. People have suffered due to sudden floods. They are fully ready to help to help the people affected by the floods. If anyone has any need, they are there to help him.
read this also:
.



Read More In State

Source link