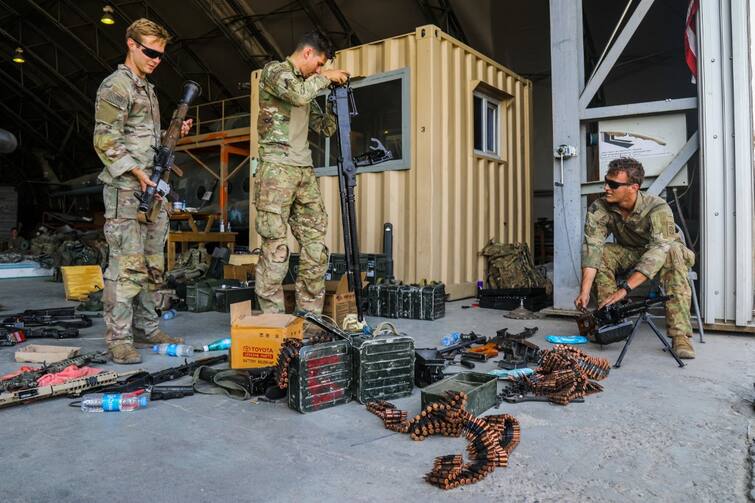 Afghanistan News: The bases that America had prepared in Afghanistan and the weapons that were kept there could not be caught by the Taliban, so it started sending them back to their country only after the peace agreement. But the weapon, collected in twenty years, was neither possible nor cheap to send in a few months. So the US and NATO forces started dismantling the weapons.
What did America do with the weapons?
The bullets were fired in a controlled blast.
The guns were torn to pieces.
Containers that were converted into communication systems were broken.
Small arms were scuttled.
The wires were cut into pieces of up to three centimeters, so that the Taliban could not make bombs from them.
Weapons that could not be cut or smelted were completely sabotaged by American soldiers.
Hamid Karzai International Airport was also the base for the fighter planes and helicopters of the Afghan army. American soldiers had turned all the equipment of the war into junk on the go. Despite this, America could not be completely successful.
What weapons are in the possession of Taliban?
Taliban captured 33 US Mi-17, 33 UH-60 Blackhawk helicopters and 43 MD-530 helicopters. Apart from this, more than 64 thousand machine guns, more than 3 lakh 58 thousand assault rifles, more than 1 lakh 26 thousand pistols, 176 cannons, more than 1 lakh 62 thousand walkie talkies and more than 16 thousand night vision devices have been captured by the Taliban. .
If we talk about aircraft, then four C-130 transport aircraft, 23 small aircraft and 38 Cessna aircraft have also been captured.
Many of America's armored vehicles are also now in the possession of the Taliban. Like 22 thousand Humvi, 634 M- 1117, 169 – M113, and 155 MXX PRO vehicles are in the possession of Taliban. Apart from this, 42 thousand big vehicles and 8 thousand trucks have also come under the possession of Taliban.
America's fist empty even after spending billions of rupees
In Afghanistan alone, America spent $2.26 trillion i.e. about Rs 165 lakh crore. In this, Rs 58.40 lakh crore was spent directly in the war. About Rs 2,189 crore was spent every day. But even after shedding so much money, America's fist remained empty. The image of his superpower was also shocked from above. The Taliban, which America had described as a threat, has become more powerful with the weapons left by it. But Afghanistan is still standing where it stood twenty years ago.
Also read-
.



Read More In World

Source link