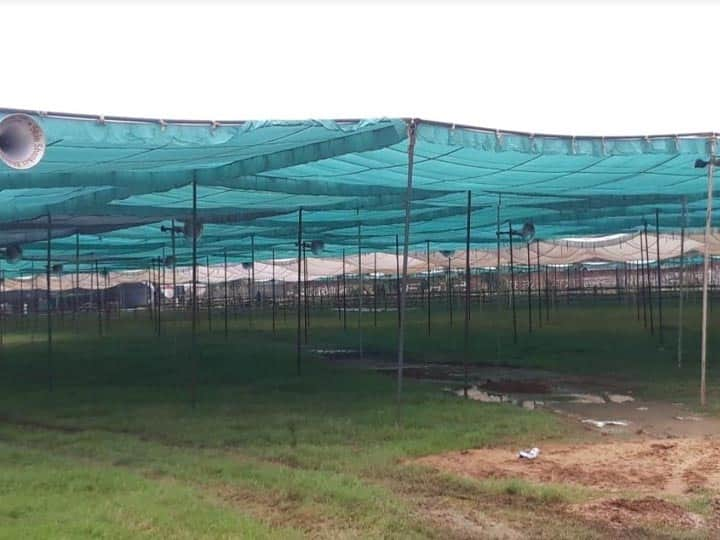 Mahapanchayat Preparation in progress: Farmers continue to protest against the agricultural laws of the central government. On the other hand, a Mahapanchayat is going to be held in Muzaffarnagar in UP on September 5 in this regard. Preparations are being made on a war footing for the Mahapanchayat of the United Kisan Morcha to be held at the GIC Ground. Work is being done to build a stage in the ground, set up tents and install loudspeakers. Charan Singh Tikait, son of Bharatiya Kisan Union (BKU) spokesperson Rakesh Tikait, said that about seven lakh farmers will reach the mahapanchayat.
BKU National President Naresh Tikait and his entire family are engaged in making this Mahapanchayat a success. The responsibility of setting up tents and preparations at GIC Ground has been given to Charan Singh Tikait, son of Rakesh Tikait. At the same time, Gaurav Tikait, son of Naresh Tikait, is looking after the preparations for the stay and food of the farmers who come. Naresh Tikait and Rakesh Tikait are making every effort to make this Mahapanchayat a success.
Charan Singh Tikait told during a special conversation with ABP Ganga that farmers from many states of the country are reaching to participate in this Mahapanchayat. Some farmers have already reached and many farmers will reach late at night. He told that proper arrangements have been made for the stay of the farmers. Also, the work of preparing tents, sound and stage is going on at GIC Ground. The work is in the final stage and it is expected that the work will be completed by late night.
"Seven lakh farmers will reach"
Charan Singh Tikait said that about 7 lakh farmers from many states including Uttar Pradesh, Uttarakhand, Delhi, Rajasthan, Haryana, Punjab, Kerala will participate in this Mahapanchayat. This Mahapanchayat will be historic. Many important decisions will be taken in this panchayat which will decide the condition and direction of the farmers' movement.
He further said that from time to time the administrative officers are also reaching to take stock of the panchayat. Administrative officials are helping in the cleanliness, but due to rain, the ground has become wet, which will be dried soon. At present, full cooperation of the administration is being received in this Mahapanchayat.
read this also:
.



Read More In State

Source link