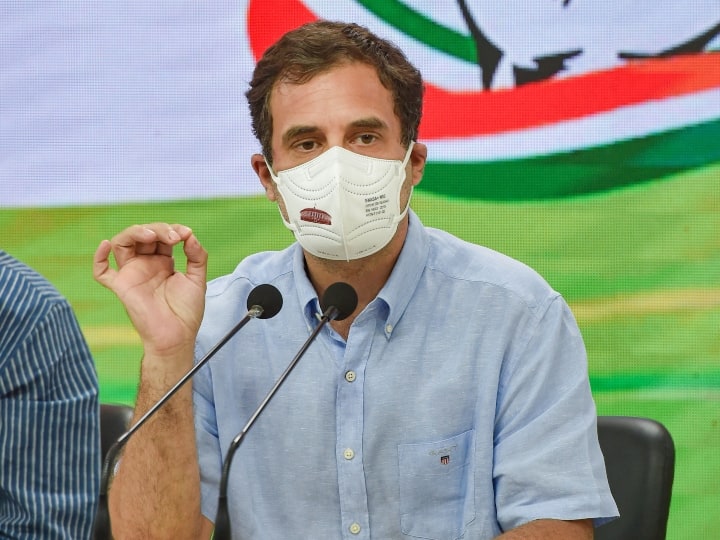 Rahul Gandhi PC: Former Congress President Rahul Gandhi today took a jibe at the Modi government and said that the increase in GDP in this government means increase in the prices of gas, diesel and petrol. The Congress leader said in a press conference, "Modi ji says GDP is increasing. The Finance Minister says that the projection of GDP is upwards. What does GDP mean? Gas, diesel and petrol – the price of which is increasing continuously.
Let us inform that according to the data released by the National Statistical Office (NSO) on Tuesday, the country's Gross Domestic Product (GDP) has registered a growth of 20.1 percent in the first quarter of the financial year 2021-22.
Rahul Gandhi said, "In 2014, Narendra Modi had said that the prices of diesel and petrol are increasing. In 2014, the price of a cylinder was Rs 410. Today the price of cylinder is Rs 885. That is, the price of gas has increased by 116 percent. Petrol was Rs 71.5 per liter and today it is Rs 101. 42 percent increase. Diesel was Rs 57 per liter and today is Rs 88. There has been an increase of 55 percent.
Rahul Gandhi said that when the prices of diesel and petrol increase, it directly affects the people. They have to pay a higher price. Not only this, the cost of transport also increases. This makes everything expensive.
He also took a dig at demonetisation and the National Monetization Pipeline (NMP). Rahul Gandhi said, "We have seen in the last seven years that there is demonetization on one side and monetization on the other. The public is asking whose demonetization and whose monetization.
The Congress leader said, "Demonetization is happening to farmers, laborers, small shopkeepers, MSMEs, salary class and honest industrialists. Who is getting monetized? Four five are happening to the friends of Modi ji. The economy is shifting.
LPG Cylinder Price Hike: Inflation shock on the first day of the month! LPG cylinder becomes expensive, know how much is the price now
.



Read More In India

Source link