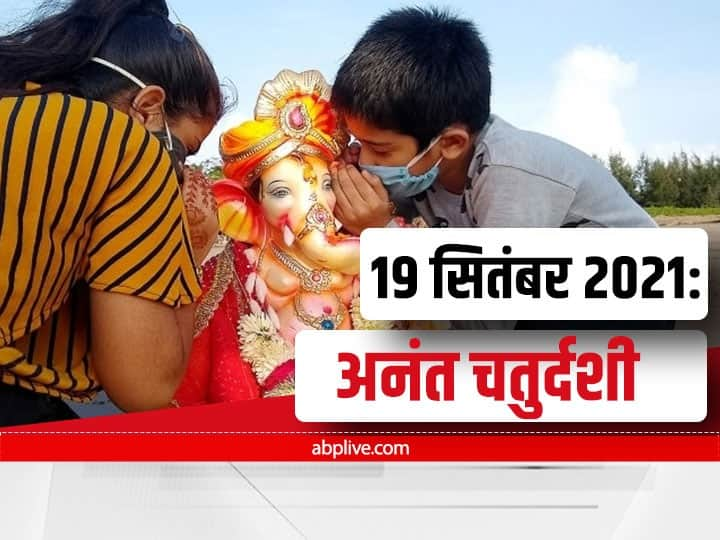 Anant Chaturdashi 2021: According to the Hindu calendar, Anant Chaturdashi is celebrated on the Chaturdashi date of Shukla Paksha of Bhadrapada month. It is celebrated with great pomp across the country. Lord Vishnu is worshiped on this day. Not only this, Ganesh Visarjan is also done on this day. On this day the infinite form of Lord Vishnu is worshipped. There is a tradition of tying Anant Sugya after worshiping Lord Vishnu. There are 14 knots in this sutra. It is made of silk or cotton. Women tie this infinite thread on the right hand and men on the left hand. It is believed that by tying the infinite thread, all sorrows and troubles are removed.
Why celebrate anant chaturdashi
There is a lot of belief in the fasting of Anant Chaturdashi. Its beginning is mentioned in the Puranas. In the Mahabharata, when the Pandavas had lost all their royalty in gambling, they got 12 years of exile and one year of unknown abode. The Pandavas were living in the forest while fulfilling their vows. At that time Yudhishthira asked Shri Krishna the way to get back his royal palace and remove the misery. So Shri Krishna told him that Lakshmi ji is upset with you because of gambling. To get your royal text back, if you keep fast on Anant Chaturdashi, then you will get everything back.
Shri Krishna had narrated this story (anant chaturdashi katha in hindi)
Shri Krishna narrated a story to Yudhishthira explaining the importance of fasting. In ancient times there lived an ascetic brahmin. His name was Sumant and wife's name was Diksha. Both had a pious daughter named Sushila. Diksha died while growing up for Sushila. After some time Sunta married a woman named Karkasha and married his daughter Sushila to a Brahmin Kaundinya Rishi. At the time of farewell, Karkasha tied some bricks and stones and gave them to son-in-law Kaundinya. The sage felt very bad about this behavior of the curmudgeon. Sadly, he left with his wife. At night he stopped by a river and started offering sandhya. During this, Sushila saw that many women were worshiping some deity. When Sushila asked those women about the worship, they told about the worship of Lord Annat and its importance. Susheela also performed the fast at the same time and tied a thread of 14 knots and came to Kaundinya.
When Kaundinya asked Sushila about that defense thread, Sushila told him the whole thing. Kaundinya refused to accept all this and took out that defense thread and threw it into the fire. After which all his property was destroyed and he started living unhappy. When he asked Sushila the reason for this poverty, he talked about burning the string of eternal God. In repentance, the sage went towards the forest to attain the eternal door. Even after searching for several days in the forest, when he could not find the eternal formula, he fell to the ground in despair.
At that time Lord Vishnu appeared and said, 'O Kaundinya', you had despised me, that is why you have to suffer so much. Now you have repented, I am pleased with you. Now go home and observe an eternal fast. After fasting for 14 years, your suffering will be removed. You will be full of wealth. Kaundinya did the same and he got freedom from all the afflictions.
Anant Chaturdashi 2021: When is the festival of Annat Chaturdashi this year, know the method of worship and auspicious time
Anant Chaturdashi 2021: Worshiping Anant Chaturdashi will remove every crisis, know the importance of Anant Chaturdashi
.



Read More In Religion

Source link